"If you want to make millions, read this letter!..." - millionaire, Robert Allen
"Amazing Secrets of 9 Self-Made Millionaires Can Get You All the Success and Happiness You Could Ever Want, Eliminate Years of Struggle and Wasted Effort, and Make You An Absolute Fortune!..."
...Just Like It Has for Thousands of Others!"
How do I know?...
Because I created the #1 Best-Selling Book featuring all 9 amazing millionaires!
Rich Dad Poor Dad co-author, Sharon Lechter
Multiple Streams of Internet Income author, Robert Allen
Anthony Robbins Mentor, Jim Rohn
'1-800-FLOWERS' CEO, Jim McCann
Chicken Soup for the Soul authors, Mark Victor Hansen and Jack Canfield
Plus 3 More Millionaires You'll Read About In This Letter…
Now YOU Can Get Every Secret We Squeezed Out of Them!...
PLUS 5 Amazing Additional FREE Bonus Gifts!...
Dear Internet Friend,
It's a fact you can't deny...
These 9 famous self-made millionaires know the secrets, tips, techniques, and strategies for making millions of dollars.
How much is even one of their secrets worth to you and your success?
How much money could you make if you discovered the secrets of these 9 self-made millionaires?...
Tony Robbins Millionaire Mentor, Jim Rohn
Best-Selling Authors of One Minute Millionaire: Robert Allen & Mark Victor Hansen!
Chocolate Chip Cookie Guru, Wally 'Famous' Amos
Jack Canfield, co-Auhtor of Chicken Soup for the Soul
Rich Dad Poor Dad co-Author, Sharon Lechter
Michael Gerber, Author of The E-myth
The Genius behind 1-800-FLOWERS, Jim McCann
Guerilla Marketing Author, Jay Conrad Levinson
Suppose you could sit down and have each of these 9 millionaires reveal all of their biggest money-making gems to you, one right after another!

Imagine...each of these multi-millionaires helping you make your own mega-fortune. Just one of their secrets makes you a ton of money each and every month for the rest of your life. But, instead of learning just one secret, you learn over one hundred sure-fire secrets!

It's like owning the detailed maps to 100 buried treasures.


"This is a proven, practical book that will accelerate you along the road to financial independence. Read it, follow it and watch your life change!"
Brian Tracy, Multi-Millionaire and Best-Selling Author!

Sounds too good to be true?

Well, it's not and there's proof. You see, thousands of people have already become millionaires, starting with nothing but these secrets. Could you be next?

Think about it. What if you knew the exact secrets, techniques, and strategies that have made thousands of people into millionaires starting from scratch?

But It Could Take You 20 or More Years,
Maybe Even the Rest of your Life,
To Learn These Secrets On Your Own...

It could take you the next 20 to 30 years and easily cost you $50,000 or more to learn what these millionaires know.

But, instead of knocking yourself out trying to discover the tried-and-true methods that are time-tested and proven to work, now you can get this entire treasure-chest of hard hitting, money secrets in just a few minutes from right now! Then, you can use them anytime you want to make more money!

Announcing the new #1 best-selling book!...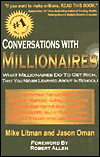 "Conversations with Millionaires -
What Millionaires Do To Get Rich,
That You Never Learned About In School!"
In just 3 1/2 minutes from now you can be on your way to getting every secret we squeezed out of all 9 money-making experts! (Instead of spending the rest of your life still searching for the answers.)
How is this possible?
Because in your copy of Conversations with Millionaires you'll read the actual transcripted interviews we did with each and every one of these 9 genius money-makers. Each interview was a half hour to a full hour long. So, as you read them you'll see for yourself how I practically forced them to reveal every single money gem they could possibly jam into the time we had together.
Finally! 9 Self-Made Millionaires Reveal
Every Secret You Need, All In One Place!
The incredible secrets you'll learn in Conversations with Millionaires are secrets you simply can't find anywhere else.
For each one of the million-dollar sessions you'll read, I came up with every question you can imagine that could help you learn how these self-made millionaires got the wealth and lifestyle you want. You'll get the benefit of all the hours I spent asking people like you what they most wanted to know from each of these money-making experts.
A number of these questions were actually shocking. But I asked them anyway, because I wanted to get every money-making and profit-producing nugget I could get out of them while I had the chance...wouldn't you?
They even answered questions they had never been asked before by anyone!
Here's just a small sample of what others have said about Conversations with Millionaires...
"Awesome! A fiery, practical, inspiring and informative powerhouse collection! Mike is a fire-breathing interviewer who pulls the gold out of the gurus. Get this book! It's fantastic!

Joe"Mr. Fire" Vitale, Author of 'Spiritual Marketing', www.mrfire.com
"Conversations with Millionaires is pure wisdom straight from the people who achieved what you are shooting for: The goal of becoming a millionaire! While other books tout theory, Conversations with Millionaires gives you the truths from people who have actually done it. You won't find better information or advice anywhere."
Chris Widener, President, MadeForSuccess.com
So, you'll get all the secrets these 9 millionaires revealed...plus you'll discover how you can start making more money in as little as just 7 days from now.
You see, I knew you wouldn't want me to let them leave anything out. So, I just put myself in your shoes. What would you want to learn most from each of these millionaires? So, you'll get everything out of them I could possibly get.
As a result of the secrets revealed in Conversations with Millionaire we are constantly bombarded with more and more people telling us how much they loved it and the amazing impact it's had on their lives. Here's a few testimonials from people just like you...
"...one of the most inspiring books I have ever read..."
"This book is one of the most inspiring books I have ever read and I want to read it again! It has made me aware of things I have done in the past and things I NEED and WILL do in the future. Conversations with Millionaires gives you so many different stories, and each one is fantastic and exciting. I could hardly put it down and I made time to finish it within 3 days. Many great plans are in my future, because I intend to follow the words of the masters! The most important words, I believe, are "Take action!" I ordered 25 copies to share with my friends and relatives. It is great to be able to give others this book and know that it will change their lives! IT WILL CHANGE YOUR LIFE, TOO!! I send many blessings to Mike and Jason for giving the people of the world this information."
- Carol Gochenour from Houston, TX United States
"Gets to the heart of success...
"The interviews in this book are wonderful. I have read many books on "how to" be successful, but Mike probes deeper, and finds out what really makes these people tick. What he comes up with is a much more intimate look at successful people, how they think, not only in business, but in their everyday lives. I absolutely fell in love with Wally Amos of chocolate chip cookie fame. His attitude towards life, problems, solutions, and success is absolutely inspirational and uplifting. Thanks for a great book, Mike!!"
- Gloria Morrell from Fleetwood, PA United States
"If you desire to change your life, read this book!
"Easy to read and packed with success principles and philosophies. Learn from those who have already achieved what you desire to achieve. Read and reread this book - then take action!"
- Denise Kube from Victoria, BC Canada
"Take the Time to Read This Book!
"Being an author as well as small business owner, I read all I can get my hands on regarding how to succeed in life and business. Mike, & Jason, offer much insight and information, and this book is definitely not a sham, like so many others within the genre that are out there. I would recommend this book to anyone who wants to become successful."
- Christy Tillery French author of "Chasing Horses" from Powell, TN
"Own this book NOW!,
"Jason & Mike, Thank you for such a moving book. For anyone on the fence about buying this, there is no way in my mind to justify NOT getting this book - it's FANTASTIC. The next Rich Dad, Poor Dad, I devoured it in one day, it's an amazing tool to share with others, a tremendous compilation on your parts. Fabulous questions asked, tremendous answers from the guests. I could best liken this book as an extraction of all the important juice from the minds of some outstanding people; in this day of information overload, I like the idea of saving time by not having to read a ton of books and instead get the essence of it all from this one book. I can always read more on the millionaires within once I get their main points from this book . All I can say is, Mike and Jason, have more conversations, QUICK!"
Steve Graul from Union, NJ USA
And just look at what co-author of the best-selling book series 'Chicken Soup for the Soul' and One Minute Millionaire, said during the interview with him...
"This interview is way better then I could have ever dreamed of."
Excerpt from my interview with Mark Victor Hansen
Believe it or not, Mark and his partner Jack Canfield have sold over 70 Million copies of their books!
What's even more amazing is the fact that these books are filled with 101 short stories from other people. So Mark and Jack didn't even have to "write" these books! Yet they still sold over a billion dollars worth of books and related products!
Wouldn't you like to know how they're doing it? You'll discover how in Conversations with Millionaires...
Plus, here's a little more of what you'll learn just from Mark alone:
The simple step you can take to become a millionaire starting today
The only real asset millionaires have…It's something you already have too!
The 7 most common characteristics of millionaires
Mark's magical 4-Step Formula for Massive Success
The miracle method that takes less than a minute...and can make you a millionaire in no time flat!
Mark's idea about goal setting that goes against all the "experts" advice!
His Incredible Secret for Creating Instant Rapport with Anyone!
And so much more! There's just too much to list!
And all that was just the beginning of what you'll learn from Mark inside Conversations with Millionaires.
Grammy Award Winning Musician, Kenny Loggins said this about Mark Victor Hansen…
"Mark inspires people to create a life where
you can have whatever you dream of."
Kenny Loggins, Grammy Award winning musician
(In fact, inside Mark and Robert Allen's book "One Minute Millionaire" they mentioned me and one of my own wealth strategies on pages 62 and 64.)
Next, you'll read the mind-blowing session we did with Mark's partner, Jack Canfield.
Jack came up with the winning title for the Chicken Soup series. You'll learn how he came up with the title that sold over 70 million books in this chapter with Jack. (Hint: Use this secret method yourself to get million-dollar ideas whenever you want!)
Jack is also a well-known self-made millionaire, business expert, and self-esteem guru who has appeared on TV shows like: Good Morning America, The Today Show, the NBC Nightly News, 20/20, Eye to Eye, Oprah Winfrey, Caryl & Marilyn, Terri Bradshaw & Friends and CNN.
Here's a small taste of what you'll learn from Jack in your copy of Conversations with Millionaires...
Jack's success secret that launched Chicken Soup for the Soul to the top of the best-seller's list...use this secret yourself to multiply your income immediately!
2 incredible ways to triple your income and double your time off...you're gonna knock your head against a wall for not doing these 2 things sooner!
A simple technique one man used to completely dominate his industry during a recession...while everyone else was going broke!
The single, most important key to getting whatever you want in life!
How to instantly overcome any fear!
The power of unstoppable self-esteem and how you can get it now!
Jack's secret formula for feeling like a champion everyday!
2 little-known ways to automatically and instantly improve any area of your life faster than you may believe possible...both of these methods are pure genius!
The money-making secret Anthony Robbins never told you…about himself...and how it can catapult your income almost overnight!
How you can successfully use the power of the universe to cash in now!
#1 life defeating mistake that you make all the time and how to immediately stop doing it!
The best-kept secret of the rich finally revealed!
Maybe you'd like to learn how to apply these secrets to an internet business. Well, how would you like to learn the Internet secrets of…
How To Make $94,532.44 in 24 Hours Online?
Robert Allen, is the author of 5 best-sellers, Nothing Down, Creating Wealth, Multiple Streams of Income, Multiple Streams of Internet Income, and One Minute Millionaire. Robert made $94,532.44 in 24 hours online and in this exciting interview you'll learn how he did it & how you can duplicate his results, plus…
How to become financially free on just a dollar a day!
The secrets to creating multiple lifelong streams of cash flow!
3 incredible money mountains and how to climb them all the way to the top!
How your own Internet fortune may be just one click away!
How to create a legacy that lives on and on!
How to quickly create financial security online!
The top 7 money secrets of the richest people!
And you'll learn all of that in just a few of the pages in the chapter with Robert!
"I would pay for each chapter what the entire book cost!..."
"After reading the book, I feel I owe you more money than what I paid. I would of gladly paid for each chapter what I paid for the entire book. The book has completely changed my concept of wealth as well as my strategies for creating it. After just a short time of reading your book, I was already on the Internet creating several streams of income. Thank You."

- Larry Pacheco Jr. from Parker, CO United States
Want to make a lot more money in your business than you're making now? If so, then, you must check out my interview with Small Business Expert, Michael Gerber.
He's the author of the best-selling book, The E-Myth and is responsible for the success of thousands of small businesses. In chapter 5 of Conversations with Millionaires you'll learn:
The biggest mistakes almost every small business owner makes and how it instantly KILLS any chances you had for success!
How to set up your business to give you freedom to live the life of your dreams!
The small incident that happened in 1952 that completely changed the way you MUST do business if you ever expect to make serious truckloads of money!
How to create winning leverage in any business and create massive profits
How to create a business that gives you more profit and more life
How to differentiate yourself from your competitors seemingly overnight
The 3 magical ingredients you need to have for a successful business formula
There's so much great stuff in this one session alone there's just no way I can do it justice by trying to describe it all! You just have to read it for yourself to fully realize all the benefits you'll get from it.
But, for now, take a look at what another successful business owner had to say about Conversations with Millionaires...
"When I read Conversations with Millionaires, I was floored! The people in this book understand achievement and are masters at transferring that knowledge so anyone can duplicate it. Mike's ability to draw out just the jewels from these titans is amazing. It's like he was reading their minds. Get this book! Read it over and over. It'll be worth thousands, and maybe millions to the fortunate people who own it."

Mike Brescia, President of Think Right Now Publishing, www.ThinkRightNow.com
How the Richest Entrepreneur's In The World,
Work Their Money-Making Magic!
You'll also read the interview with Sharon Lechter, the co-author of the blockbuster best-seller, Rich Dad Poor Dad.
Sharon and her partner Robert Kiyosaki make millions of dollars every month in passive, residual income. It's what I call "Effortless Riches". It means they'll continue making millions of dollars every month for the rest of their lives whether they ever work another day or not.
Want to learn how you can do it too?
You'll learn how in 'Conversations with Millionaires' NOW!!
Plus, you'll also learn things from Sharon like:
The single, most common characteristic that all millionaires possess…you'll never be a millionaire without this crucial lesson!
The #1 Money Mistake of the Poor and Middle Class
How to never 'pay' for the luxuries you want in life
The #1 key to starting any successful part-time business…an absolute must for any home-based entrepreneur...especially you!
The little-known way the rich get richer and how you can too
How the government can actually help you get rich!
How to achieve the Rich Dad's Power Mindset...so you can turn anything you touch into pure gold!
And you'll get all of that in less than half of the information-packed chapter with Sharon!
You'll also get the amazing session I did with a man named Jim McCann who started the company, 1-800-FLOWERS!
Can you imagine becoming a mega-millionaire and Forbes Magazine's, "Entrepreneur of the Year" all starting with just a single telephone number?
You'll learn exactly how he did it all when you read the chapter with him.
You'll also learn…
How he 'really' got the idea for the 1-800-FLOWERS phone number that started his million dollar empire!
The 2 vital success factors of all entrepreneurial success!
The major money lesson you must learn from Bill Gates' success story!
The #1 key you must have to become a success in any business
How to stay extremely focused at all times…no matter what!
What you must learn from Jim's 2 major business mistakes!
The greatest success strategies behind the success of 1-800-Flowers and how you can duplicate it for yourself
Jim McCann talks about the power of the Internet to make you money now!
The #1 myth in business today…and how to protect your business by applying this strategy today!
How to correctly brand yourself and get customers lining up outside your door waiting to hand you their money!
If you think all of this sounds 'too good to be true', then read what this recent email from another satisfied reader says...
"Success leaves clues. Your book Conversations with Millionaires, gives the reader all the clues they will ever need to succeed in whatever their heart desires. I am recommending this book to everyone I know and come to know. Thank You for an awesome job of asking all the questions I would have (if I had been given the chance)."

Don Nicholes - Portland, Oregon
I get emails like this all the time! People just can't get enough of Conversations with Millionaires!
Listen. There's really NO question about whether these millionaires know the secrets of making millions of dollars day in and day out. Each one of them is walking, breathing, and living proof!
The only question is whether you want to get the results these secrets can give you as well...especially considering the special deal I'm offering you of both versions!
You'll get the greatest collection of millionaire interviews ever all in this exciting and easy to read best-selling book! All the secrets are here for you to take advantage of them.
"A Mind Opening Experience...
"When I purchased "Conversations With Millionaires", I was not sure what I was in for, but I knew that coming from Mike it had to rock.
When the book arrived and I broke into the first page I was captivated and was unable to put it down. Mike's energy literally jumped off the pages and the way he is able to get these "Millionaires" to open up is something just short of incredible. The straight forward ideas and techniques I got from this book has my brain on overload. My idea factory is running wide open, thanks to this great book. Mike not only interviews these "Millionaires", he becomes the interview, getting inside their heads and pulling out truly life changing ideas.
If you're interested in improving your life, and who isn't, get this book and learn from the people that have "been there and done that". Truly a mind opening experience."
Steve Clack from Rocky Mount, NC United States
You've heard from other people about how incredible this book is and you know how powerful these secrets are. The real-world proof is in the fact that these secrets have made these money-making experts well over a BILLION dollars! Don't you want to get your hands on them too?
You'll even discover the secrets of "The Godfather of Chocolate Chip Cookies"! His name is Wally 'Famous' Amos and in this chapter you'll learn…
Famous Amos' secrets to making your ideas become a reality now!...nobody knows this better than the man who made a fortune from chocolate chip cookies!
How Wally legally lost the ability to use his own name and how he turned it around to create an amazing comeback...knowing this could literally save your financial life someday!
The #1 mistake all entrepreneurs make...you must hear this today!
The most powerful strategy Wally Amos uses from the great Napoleon Hill's writings! You won't believe this until you read it for yourself!
The biggest action step you can take right now...another must read if you want more out of life!
Wally Amos's central core principle of total life success!
A $1,000,000 success principal revealed LIVE! Wally 'Famous' Amos gives you the goods!
Ready to get started? Click HERE To Order Now!
Now, No Matter What Business You're In -
You'll Get Secrets That Can Catapult
You To Millions!
But, get ready for a shock. Not just because of the amazing secrets revealed, but also because these interviews are unlike anything you've ever seen before! If you're expecting some boring collection of back and forth banter, like those interviews on some of the TV talk shows, you've got another thing coming!
You definitely won't be getting some outdated, fluff-filled, put-you-to-sleep reading here. Instead you'll feel like you're right there with each millionaire hanging on every word and getting more and more juiced up and excited with every secret they reveal to you!
In fact, here's what Robert Allen said after I interviewed him to discover his million-dollar secrets...
"Mike, your show was awesome. And your energy was higher than any talk show host who has ever interviewed me. And I've been on hundreds of shows."
Robert Allen - Best Selling author of, 3 NY Times Best-Sellers
Then after that, Robert read the whole book and offered to do the Foreword for it, here's an excerpt from what his Foreword says…
"As I read the interviews that Mike Litman and Jason Oman have compiled throughout the years, I'm taken aback by the incredible information the guests have shared. You can almost feel their passion flowing off the pages as you turn them. Almost like you're there with them, listening in on their live interview. Conversations with Millionaires is not only a book, but a guide for those looking to achieve more abundance and riches in one's life. As I said, success leaves clues. You'll find all of them as you turn the pages in this soon to be business classic."
Robert Allen
You'll read the rest of what's in Robert's Foreword when you get Conversations with Millionaires right now.
With Conversations with Millionaires, you'll get all 9 of our most popular interviews, plus all the hard-hitting, profit-generating secrets revealed in each of them!
Okay, So How Much Do I Need To Invest To Get This?
Well, considering that you'll get this rare collection of secrets containing over 7 hours of hard-hitting information from 9 different multi-millionaires, it could easily sell for hundreds of dollars. (7 full hours is long enough for a complete one-day seminar.)
In fact, if you tried to get any of these 9 millionaires to speak for a one-day seminar you'd have to pay them $5,000 to $20,000 or more...each! That would be a minimum of $45,000 (9 X $5,000 = $45,000) or more.
And you'd still only get a fraction of the secrets I squeezed out of them for this book.
So, at a bare bones minimum you're getting thousands and thousands of dollars, (if not millions of dollars) worth of powerful and proven money-making secrets all at your disposal.
But you're not going to invest anywhere near that amount, or even the minimum price for just one of these speakers. In fact, you're about to get all 9 FULL interviews packed with tons of million-dollar secrets for Just $15.95 when you take advantage of this limited-time opportunity right now!
"Mike & Jason, You guys rock!! I bought 'Conversations with Millionaires'...I've read it and am amazed with the information you present. Your interviews are exciting, informative and a genuine pleasure. I would have paid $270.00 for the book. Keep up the good work!"
Eric Reynolds
The money you'll make as a result of these proven secrets can launch your income to the moon very easily!
Okay, So Why Are You Letting Me Have This Incredible
Collection of Million-Dollar Secrets for Only $15.95?
Actually there two reasons:
First, these secrets have changed our own lives and the lives of thousands of other people. Call us 'crazy spiritual types' if you must, but we feel this book was a gift to us and that it was given to us so that we could pass it on to others.
And secondly, for this book to get out to the most people we need people like you to fall in love with it and tell others about it. That's the way it works with books. When people like you get their hands on something that blows them away like this, they feel compelled to share it with others. We're hoping that after you fall in love with Conversations with Millionaires you'll help spread the wealth and tell others about it.
It's really as simple as that.
Sounds great to me!
What do I need to do to get my own copy?
Ok, here's where it gets even better...
Because you are ordering right now you'll get instant access to the download version of Conversations with Millionaires as a PDF e-book. That means you can start going through it right from your computer in about 3 minutes from now.
In fact, if you act fast I'll make this deal even better for you!...
Because when you order right now I'll even add 2 amazing bonus gifts to reward you for taking fast action!...
You'll Get 5 Amazing Bonus Gifts When You
Order By Midnight Tonight Only!
Because you've proven to us that you're serious about getting your hands on these millionaire secrets we wanted to offer you something extra that you'd be plum crazy not to jump on immediately. Something absolutely incredible that can make you even more money right away...
So, as a special FREE bonus for acting immediately, you'll not only get everything I've mentioned above, but you'll also get...
BONUS #1 (Value $39): You'll Get My New Breakthrough Ebook: "How To Finally Make Money and Achieve True Financial Freedom!" This eye-opening Ebook will show you the top 5 reasons most people never make real money and how to make sure you do! It's also an instant access digital download version. Plus, in section 2 of this Ebook you'll also discover "The 7 Steps To Financial Freedom!"
This amazing bonus Ebook could easily sell by itself for at least $39 or more. But, it's yours free as an extra reward for ordering Conversations with Millionaires right now during this special limited-time opportunity.
"Mike and Jason, This new Ebook 'How To Finally Make Money...' is very informative stuff! You guys break stuff down to the core where people can really understand it. You should sell this for $39.95 or higher! It's that good."

- Theron Wilson from Detroit, Michigan
Remember, this is only available through this special limited-time opportunity when you Click HERE to order now right now!
BONUS #2 (Value $29): Special Report: "The Magical Formula For Tapping Into People's Hearts, Minds, And Wallets!"
In this exciting money-making special free report, you'll discover our magical formula for instantly tapping into the heart's, mind's and wallets to create raving fans and cash on demand for yourself!
This specific strategy brought us in over $32,0128 in one day sales last January! It was also featured in another NY Times Best-Selling book! This specific strategy is about to take your mind and your wallet to a whole new level!
In "The Magical Formula For Tapping Into People's Hearts, Minds, And Wallets!" you'll learn:
The jealously guarded 4 step formula that allows you to open people's wallets anytime you wish. You say the word, they say 'Take what you wish'.
What famous entrepreneur Wally 'Famous' Amos personally told Mike that has performed magic in my business! Using this one strategy he shared with us has brought in over $52,193!
Want to get people on your side to help you fulfill your dreams! You're about to discover exactly how!
And much, much more!
You'll never look at people the same way as you go through this proven, and practical way to tap into the heart's, minds, and wallets of others. Warning: This is NOT about manipulation and you must use this very powerful people strategy totally ethically! In this special report: "The Magical Formula For Tapping Into People's Hearts, Minds, And Wallets!" you'll begin to live in a whole new world.
BONUS #3 (Value $27): Special Report: "How To Develop the Million Dollar Mindset!"
Over the last 5 years, I've interviewed the most successful people in the world and now I'm finally ready to spill the beans on the greatest secrets I've discovered from all of them!

Recently, I went on an extensive 'fact-finding' mission through hours and hours of my 'millionaire interviews' to isolate the key secrets for developing the millionaire mindset that will change your life. And now it's yours as part of this limited-time offer!

Join me as you enter the 'millionaire mindset' and you'll be taken on a journey that will change your life for the better - fast!

Recently Networking Times Magazine called me "a modern day Napoleon Hill" and now you will get these sure-fire millionaire secrets that will finally set you free.

People think I'm crazy for giving this away, so I don't know how long this bonus will last. 5 long years of hard work went into discovering these little-known millionaire secrets and now they're yours absolutely FREE! Click HERE to order now while this offer is still available!
BONUS #4 (Value $29.95): Amazing Millionaire Secrets Bonus Report!
After doing projects with, & spending time with, so many millionaires, over the years, I uncovered some of the most important & amazingly powerful secrets to success for making your dreams come true FAST! (Maybe even faster than you realized was possible!?)
So, I wrote a Special Report laying out 7 incredibly powerful, & important, factors for becoming successful. So, it'll save you time, effort, & heart-ache. And, just flat out help you speed up your Journey to the Finish Line of the success, money, & financial freedom you truly desire!
"I've heard dozens and dozens of speakers talk about the millionaire mind, but this absolutely blew all of them away! I would gladly have handed you a crisp $100 bill for this pure gold! Thanks for the service you are doing helping people like myself."
Thomas Vilord - Union, New Jersey

As all of these interviews were happening, I was busy writing down notes for myself to use in my own life. (you'll do the same when you read these interviews.)
Here's just a small taste of what you'll learn:
Specific high income and wealth creation strategies
How to quadruple your speed to financial freedom
The 5 "habits" of truly wealthy people
The underlying cause of almost all financial problems
and much, much more
Click HERE to order now because you will change your life!
BONUS #5 (Value $29): The incredible LIVE online audio recording of the interview we did with millionaire, Robert Allen!!! You'll hear it right from your computer because it's an Internet audio file that plays directly from the Internet (you don't even need to download it to hear it). This was a once-in-a-lifetime interview that will go down in history as not just an interview...but an EVENT!
Remember...in this breakthrough session, Robert not only revealed...
How To Make $94,532.44 in 24 Hours Online...
But, he also went on to reveal...
How to become financially free on just a dollar a day!
The secrets to creating multiple lifelong streams of cash flow!
3 incredible money mountains and how to climb them all the way to the top
How your own Internet fortune may be just a click away!
How to create a legacy that lives on and on!
How to quickly create financial security online!
The top 7 money secrets of the richest people!
And that was just the beginning! You'll hear the rest of the secrets when you listen to this history-making recording of this session.
This recording alone could easily sell for $29.95 or more. But, it's yours FREE if you take action right now by ordering Conversations with Millionaires Now!
You get all of this for Just $15.95!
But Remember, These Extra Bonus Gifts Are
ONLY Available When You Order Right Now!
Look. There's just no way we can give all these special bonuses away to everyone on the Internet. That would make us the plum crazy ones. All together the bonus gifts alone are worth over $150! So, you're easily getting over $200 worth of mind-boggling money-making secrets all for less than $20!
That's 10 times more value than you're paying!
But, like I said, you must Order Now to take advantage of these extra special free gifts!
The free bonus gifts alone could make you truckloads of money in pure profits in the next 60 to 90 days - - and they're yours absolutely free when you order right now by clicking below!
On top of all that you can also be rest assured that your order is backed by our...
100% Risk-Free Guarantee:
Your success in using these powerful, proven secrets is completely guaranteed. In fact, here's our 100% Better-Than-Risk-Free, Take-It-To-The-Bank Guarantee:
I personally guarantee that if you make an honest effort
to try just a few of these proven secrets for yourself, you'll
make at least 10 times more money then you're making right
now within the next 6 to 12 months. Plus, you'll also at
least DOUBLE your free, spare time to spend however you
choose during the next 12 months. That's right, 10 times
more money plus double the freedom and spare time.
You've got a full 12 months to prove to yourself that these
secrets are for real. But if you aren't 100% satisfied, let me
know and I'll give you an immediate, no questions asked,
no hassle refund of your $15.95 investment immediately!
Is that fair or what?
That means you can try out all the secrets completely FREE!. See if they really do work for you too. And if not, I honestly want you to let me know and ask for a refund of your $15.95 investment.
There's absolutely no risk at all on your part. I've put the risk completely on my own shoulders. You make more money and get more free time or you don't pay anything!
You Have Zero Risk To Prove To Yourself That
These Secrets Can Put More Money In Your Pocket!
There are NO more excuses. It's time to take action. Conversations with Millionaires immediately and take advantage of the 5 extra special free bonuses as your reward for ordering right now and being smart enough to grab an amazing deal when you see it!
Look, if you're truly serious about making incredible amounts of money there really is no substitute for learning from 9 different millionaires who have done it.
Click to order now to get your own copy of Conversations with Millionaires and to guarantee your free bonuses because you are responding immediately. There's no way you can lose - unless you wait too long to order.
Yours for Success,
Jason Oman
#1 Best-Selling Author of Conversations with Millionaires
P.S. Important UPDATE: Due to the overwhelming response to this offer, it could end any minute! Don't delay! Get your free bonuses by Clicking the Order Link Below Right NOW...
Remember, you have a full 1 year money back guarantee with no questions asked!
P.P.S. Also remember, if you want things to change YOU have to take the first step. I've made it as easy as I possibly can. There's just NO reason not to order now!...
Don't let yourself miss out on this incredible offer.
Click to Order Right Now To Get Your Copy of
Conversations with Millionaires
Using Our 100% Safe and Secure Order Form
Copyright 2004. ALL rights reserved.
Have questions? Email to: Jason@JasonOman.com
---
Conversations with Millionaires, LLC
1135 Terminal Way
Reno, NV 89502

Website Terms of Use and Privacy Policy